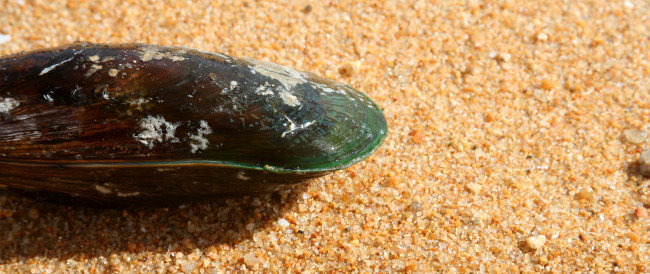 There are so many different green lipped mussel supplements on the market, choosing the best one can be confusing. And, of course, you want to make a decision that will be the most beneficial for your health.
Many people don't realize that potency of green lipped mussel extract is a real concern. Alarmingly, your 500mg capsule of green lipped mussel powder actually might not help your health much at all.
Why is this?
The reality is that the mussels are best eaten raw. The nutrients in the mussels are readily destroyed by two factors.
Heat, applied during the manufacturing process.
Degradation from oxidization, as the manufacturing process can take days for the mussels to be converted into powder form and packaged.
Unfortunately, many of the mussel supplements on the market are affected by one or both of these factors. The mussel shells are often steamed open to get the mussels out, as it's the most cost-effective method, or they're not stabilized to prevent oxidization.
Another issue to be aware of is that manufacturers use various quality mussels. Ideally, the mussels should be obtained from the one supplier in a native pristine New Zealand environment, and only harvested at the times of year when they contain all the nutrients.
The alternative is enough to make you shudder. The mussels are purchased from mussel processing factories, sometimes as rejects.
When someone comments that green lipped mussel powder didn't work for them, the reason is usually that they've been taking a poor quality, low potency, supplement.
Two Issues With Mussel Oil
Green lipped mussel supplements often contain oil extracted from the green lipped mussel. However, the problem with this is that many of the nutrients of raw mussels are lost in the extraction process. This means that the mussel oil doesn't give the entire array of health benefits that one could receive by eating the mussels in raw form, or as a specially processed powder form.
In addition, you'll find that manufacturers blend the mussel oil will all kinds of other oils. Don't be fooled into thinking that these oils contain health benefits. The real benefits come from the mussel oil. Plus, mixing the oils can cause the opposite of anti-inflammatory effect known as a pro-inflammatory effect.
Is there an alternative?
Green lipped mussel powder is also widely available. Unfortunately though, the powder is often not as potent as the oil. Hence the reason why mussel oil is the more popular form of supplement.
A Mussel Powder that Stands Out From the Rest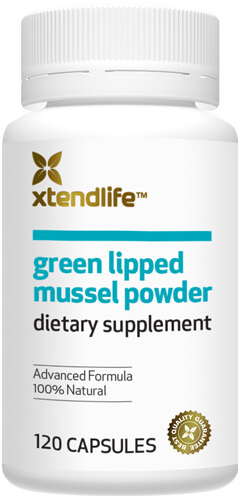 After much searching and comparing of brands, we believe that we've uncovered a potent and superior mussel powder that really stands out from the rest. It's called Xtend-Life Green Lipped Mussel Powder.
Yes, it is a powder, not an oil. Naturally, you might be wondering how it shapes up strength-wise compared to oil based supplements.
A quick comparison to the leading brand of mussel oil, Lyprinol, shows that each of Xtend-Life's capsules contains 600 mg of mussel powder, which is equivalent to the 50 mg of mussel oil in Lyprinol capsules. (Most mussel oil supplements contain between 25 mg and 60 mg of mussel oil, so Lyprinol is near the top as far as potency is concerned).
Now let's take the analysis a bit further.
There are 120 capsules in each bottle of Xtend-Life Green Lipped Mussel Powder. This is almost three times more capsules than a standard packet of Lyprinol. And, the price is much lower. This makes it an extremely good value for money product.
And who doesn't like value for money?
More Reasons Why Xtend-Life Green Lipped Mussel Powder is Superior
If you're still not convinced, there are still plenty more more reasons why we think Xtend-Life's green lipped mussel capsules are the best.
Only the highest quality mussels are used in making the powder. They're sourced from one farmer in New Zealand's pristine Marlborough Sound, and only harvested at certain times of the year when they're known to contain all their nutrients.
Xtend-Life uses an innovative and superior extraction process that you won't find anywhere else on the market. Instead of rushing to produce the supplement, the company has made an effort to determine how best to go about it. The extraction process converts raw mussels into powder in less than 30 minutes, without heating or freezing, or adding artificial stabilizers. This means that all the health benefits offered by raw green lipped mussels are preserved.
Xtend-Life is a family business with an emphasis on quality and customer satisfaction.
Money back guarantee, and free shipping on orders above $60.
Why not take a look at Xtend-Life's Green Lipped Mussel Powder today and see why we highly recommend it?
Or, find out more in this comprehensive FREE Green Lipped Mussel Buyer's Guide.

We Use and Recommend!
Xtend-Life because they are a family owned company specializing in development of innovative products to meet specific needs.
Xtend-Life combines top quality raw ingredients that are laboratory-tested, with superior manufacturing practices. Satisfaction is guaranteed, or your money back!