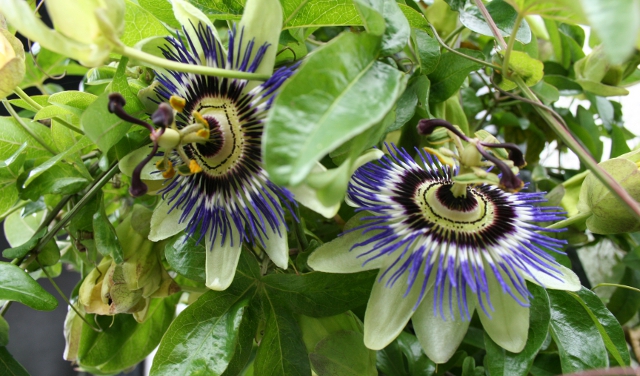 Passionflower isn't just a pretty bloom. Passionflower for anxiety has been used as a folk remedy for centuries, particularly by Native Americans. During the 1970s to 1990s, Passionflower was listed as an official plant drug in countries including America and Britain. These days, the extract is a prominent ingredient in natural supplements for anxiety.
But what scientific evidence actually exists to show that Passionflower works?
This is an important question, as interest in the use of natural medicines to treat anxiety has been growing rapidly. The prohibitive cost and unwanted side effects of chemical drugs are driving people to explore alternative solutions. However, it's only in the last 10-15 years that these alternative medicines (such as Passionflower) have begun to be rigorously tested in clinical trails.
In 2010, a team of US scientists from the Global Neuroscience Initiative Foundation, a mental health charity, undertook a review of 24 studies into supplements popularly taken for anxiety. The aim was to see which supplements were effective, and which weren't.
The studies examined five different single treatments and eight different combination treatments for anxiety. They included Passionflower, Kava, Valerian, St John's Wort, L-lysine (an amino acid), and magnesium.
Outcome of Scientific Studies on Passionflower for Anxiety
There have been three major studies involving Passionflower for anxiety. In two of them, Passionflower was used alone, and in the other one it was part of a herbal combination.
All three studies showed that Passionflower dramatically reduced anxiety symptoms.
The first study, undertaken in 1997, involved a herbal combination called Euphytose. It consisted of Passionflower, as well as Crataegus, Ballota, and Valeriana (all of which have mild sedative effects) and Cola and Paullinia (which mainly act as mild stimulants). The supplement was given to outpatients diagnosed with adjustment disorder with anxious mood. A total of 182 people participated in the study over the course of a month. A significant drop in anxiety symptom scores was reported.
The second study, undertaken in 2001, compared Passionflower to the drug oxazepam in the treatment of generalized anxiety disorder. Oxazepam is a benzodiazepine (a type of drug known as tranquilizers) that's been popularly used for chronic anxiety and insomnia since the 1960s.
The study was performed on 36 outpatients who had been diagnosed with generalized anxiety disorder. A total of 18 took Passionflower extract (45 drops a day) or a placebo for four weeks, while the other 18 took oxazepam (30 mg a day) or a placebo.
The findings indicated that Passionflower was as effective as oxazepam in eliminating anxiety symptoms. In its favor, oxazepam worked faster. However, those who were taking Passionflower reported lower job impairment performance. They were much less drowsy.
The third study, in 2008, was carried out on patients who were anxious before surgery. Passionflower extract was given to 60 patients, 90 minutes before their surgery. Anxiety scores were significantly lower in the patients who had the extract compared to those who had a placebo. Patients reported decreased anxiety without sedation.
Based on these findings, the review concluded that the studies provided good evidence of the effectiveness of Passionflower as an anxiolytic (anti-anxiety) agent.
Discover more about how passionflower extract works for anxiety.
The Best Passionflower for Anxiety Supplements
If you are keen to try Passionflower for anxiety, the best supplements that we've come across are two products from Native Remedies.
PureCalm is excellent for fast relief of anxiety, especially if you know you're going to be in a stressful or fearful situation. It's a tincture, so it's rapidly absorbed into the nervous system. In addition to a concentrated therapeutic dose of Passionflower, it also contains Lemon balm and Lavender extracts. Both are very soothing and restorative.
MindSoothe is used as a longer term solution for anxiety, and is particularly effective if your anxiety causes you to have difficult sleeping and mood swings, as it also contains St John's Wort (commonly used for depression and to balance the mood).
Both products have been created with the input of a Clinical Psychologist. Depending on your needs, they can be taken together or alone.
Here's what one satisfied customer has to say:
"I purchased both PureCalm and MindSoothe… I was doubtful if it would work at first but at this point I was open to trying something new. …I waited to use the PureCalm in the situations where I would [need it] and I was so excited to find that it worked for me! It worked so well I almost didn't even notice. There were no side effects at all after taking it and it began to work in about 15 minutes. I felt very calm and relaxed… I chose not to use the MindSoothe as I didn't seem to need it. The PureCalm worked fine on its own… Hope this helps someone else to give PureCalm a try. It was money well spent." – Keri, Canada

We Use and Recommend!
Xtend-Life because they are a family owned company specializing in development of innovative products to meet specific needs.
Xtend-Life combines top quality raw ingredients that are laboratory-tested, with superior manufacturing practices. Satisfaction is guaranteed, or your money back!