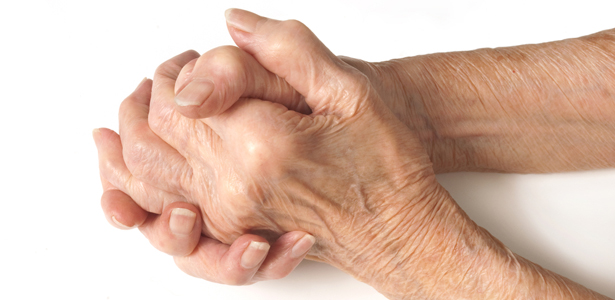 There's no doubt that arthritis is an extremely painful and debilitating disease. Just a glance at the bulging knuckles in the photo is enough to get an indication of the pain it causes. Arthritis is also unfortunately a very common disease, ranked as the number one disability disease in the United States. It affects over 40 million people in various forms.
Green lipped mussel arthritis treatment is gaining more and more recognition as a remarkable natural alternative to traditional drugs. Trials have shown that not only can green lipped mussel extract reduce the pain and inflammation associated with arthritis, it can also promote regeneration of articular cartilage which brings about improved mobility. Results have indicated that it's especially effective against Grade I and II arthritis where the disease hasn't led to major loss of articular cartridge.
But what's the link and how does it actually work?
Joint Function and Arthritis
To see in detail how it's possible, let's first take a look at how cartilage is comprised. It's made up of four components: collagen (protein), proteoglycans (protein core and complex amino sugars called glycosaminoglycans), water, and chondrocytes (cells). The glycosaminoglycans are synthesized by the cells to increase lubrication of the joint and provide shock absorption. They require a steady supply of glucosamine and other "building blocks".
Arthritis damages the joint by affecting the condition of the cartilage. In the case of osteoarthritis, wear and tear causes the smooth surface of cartilage that covers the ends of the joints to rough. This can lead to gradual breakdown of the connective tissue surrounding the joint. It's often accompanied by inflammation. Less common rheumatoid arthritis occurs when the body's immune system attacks its own joints. The cartilage along with the bone structure is slowly destroyed, leading to scar tissue formation. This causes the spaces within joints to become narrow and the bones fuse together. Rheumatoid arthritis frequently occurs before the age of 40, whereas osteoarthritis rarely develops before 40.
In order to maintain proper joint function and reverse arthritic damage, three things need to happen.
Adequate raw materials need to be supplied to the cells to rebuild cartilage.
There must be a shift in cell activity from collagen degradation to a greater repair and building mode.
Production of the enzymes that cause the degradation must be reduced and inflammation brought under control.
Sounds like a complex issue to solve, doesn't it? This is where the mussels are such a wonder food. They support joint health in all of the above areas.
Green lipped mussels contain a number of compounds that the body needs to work against inflammation and the destructive cycle of degenerative joint disease. Two of the most important ones are glycosaminoglycans and essential fatty acids.
How Green Lipped Mussels Can Help Treat Arthritis
The mussels contain a substantial 12% glycosaminoglycans. They're also a high source of a rare and powerful form of Omega-3 fatty acid called Eicosatetraenoic Acid (ETA). This has been shown to have highly anti-inflammatory properties, more so than any other Omega-3 sources.
Research indicates that the mussel extract, by providing the necessary "building blocks" appears to work directly on the cells to repair damaged cartilage and improve connective tissue elasticity.
It's been discovered that the mussels have immune modulating properties that causes an immune response shift to help down-regulate the inflammatory cells.
The ETA in the mussels is also a potent inhibitor of the enzyme pathways (cyclooxygenase and lipoxygenase) in which inflammatory agents are produced. Discover more about the miraculous green lipped mussel anti-inflammatory effect and how it's achieved.
In addition, the antioxidants in green lipped mussels help control free radicals. Researchers have found high concentrations of free radicals in the joint fluid extracted from inflamed joints.
This is what one orthopedic surgeon, Lloyd A. Hurley, MD, has to say about the use of the mussel extract to treat arthritic patients:
As an orthopedic surgeon I have utilized green lipped mussel extract for over 10 years in my practice as a means of offering my patients nutritional support for their degenerating osteoarthritic knee conditions. For many patients, inclusion of the extract, along with other modifications, has allowed them reasonable control of their arthritic condition without having to resort to surgery (total knee replacement) as a last resort.
Source and further reading: New Research and a Clinical Report on the Use of Perna Canaliculus in the Management of Arthritis. Kendall, R.V.; Lawson, J.W.; Hurley, L.A.
Australian TV program A Current Affair has also covered the use of mussel extract to successfully alleviate inflammation and arthritis.
However, you do need to be careful when choosing your mussel supplement to ensure that the extract is potent. There are many different products on the market these days, and they do vary widely in quality. As a result, some people think that green lipped mussel extract doesn't work for them. Usually, the reason is simply because they've bought a cheaper product that hasn't been manufactured well.
Which Green Lipped Mussel Supplement Should You Take?
We recommend Xtend-Life Green Lipped Mussel Powder — it's what we think is the best brand on the market, and it's supported by a 100% satisfaction guarantee so you can try it risk free.
See what factors you should consider when choosing a green lipped mussel supplement and take a look at how popular brands shape up in this brand comparison.

We Use and Recommend!
Xtend-Life because they are a family owned company specializing in development of innovative products to meet specific needs.
Xtend-Life combines top quality raw ingredients that are laboratory-tested, with superior manufacturing practices. Satisfaction is guaranteed, or your money back!