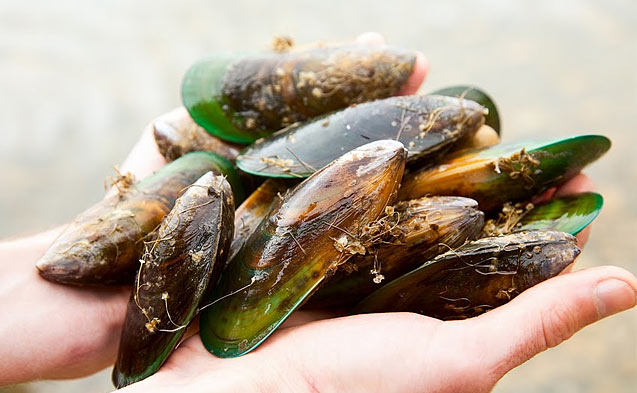 If you're interested in trying green lipped mussel extract, you're probably wondering about the popular green lipped mussel brands and which one you should buy. It can be confusing. Which ones really work? And do you choose a mussel oil or a mussel powder?
A number of factors need to be taken into consideration in order to make an informed decision. These include ingredients, quality of mussels used, and manufacturing process. (Unfortunately, it's not a straightforward matter!)
Firstly, let's take a look at some of the leading brands and what they offer.
Popular Brands and their Ingredients
Lyprinol. Lyprinol is the undisputed market leader, sold worldwide. Research and development of the product started in the early 1970s. The extract usually comes packets of 50 capsules, containing 50 mg of green lipped mussel oil in each capsule. The drawback is that it's not cheap. One packet costs around $50, which is $1 per capsule.
Blackmores. Blackmores is a leading Australian manufacturer of natural health supplements. It markets Lyprinol. Each packet of 50 capsules, containing 50 mg of mussel oil in each capsule, retails for around $AUD 40.
Bio-mer Tripernol. Bio-mer Tripernol is manufactured in New Zealand, and the supplement is conveniently available in both oil and powder form. The mussel oil comes in packets of 60 capsules, containing 500 mg of oil per capsule. If you think that sounds like a lot of oil, you're right! There's actually only 167 mg of mussel oil in each capsule. It's blended with organic soy lecithin phospholipid (333 mg). Yet, 167 mg is still a very generous amount of oil compared to other brands. The price is reasonable too. $NZ 49.50 or US$38.96 (based on exchange rate at the time). The powder form of Bio-mer Tripernol mussel extract comes in 500 mg capsules, with 100 capsules per bottle. It retails for NZ$28.50 or US$22.43.
Moxxor. Moxxor is another well established green lipped mussel brand. It's sold through a multi-level marketing company (also known as a pyramid scheme). Each capsule contains 150 mg of oil. Again, the important thing to note is that the oil is a blend of oils (mussel oil, fish oil, and grape seed oil), not just mussel oil. And, it's quite a challenge to find out exactly how much mussel oil there is in each capsule as it's not specifically stated. This website has done some calculations and suggests that there's only 37 mg of mussel oil in each capsule. The remainder consists of 44 mg white grape seed extract, and 69 mg Hoki (fish oil). 60 capsules of Moxxor retail for around $60. This is also $1 per capsule, same as Lyprinol, but you're getting less mussel oil than what's in Lyprinol.
Blue Dragon. Blue Dragon is a New Zealand based company that manufactures green lipped mussel powder. Each bottle contains 90 capsules with 500 mg of mussel powder in each capsule (this is equivalent to a bit less than 50 mg of mussel oil). There are also some other additional ingredients such as alfalfa leaf and cinnamon oil. A bottle retails for just under $24.
Blooms. Blooms is an economy brand of natural health supplements that's widely sold in Australia. Their mussel extract is promoted as an inexpensive product, and in that regard, lives up to its advertising hype. A packet of 60 capsules, containing 500 mg of mussel powder per capsule, retails for as little as $10-12 on some websites.
Xtend-Life. Xtend-Life, the brand we prefer, is a family owned New Zealand based manufacturer of green lipped mussel powder. Each capsule contains an above average 600 mg of mussel powder. This is equivalent to 50 mg of mussel oil. There's a generous 120 capsules in a bottle, which retails for just over $30.
The analysis doesn't stop here though! Next, we need to take a look at how the mussels are selected and processed.
Some questions to be asked are:
Where are the mussels sourced from?
When are the mussels harvested?
Have the mussel shells been heated open?
Have the mussels been freeze dried?
Have stabilizers been used to prevent mussels from oxidizing?
Has the oil been extracted using chemical solvents?
The importance of these factors can't be underestimated. Shockingly, some manufacturers have been known to buy mussels as rejects from mussel processing plants. Others are harvested too early, before they get a chance to develop all the beneficial nutrients that they're known for.
Many people also don't realize that heating and/or freezing the mussels destroys nutrients, and companies add harmful chemical stabilizers (such as tartaric acid and oxalic acid) to prevent oxidization. Extracting the mussel oil from the powder leaves behind nutrients as well, and solvent extraction methods don't extract the unique lipids.
Popular Brands and their Manufacturing Processes
Lyprinol. Mussels are purpose-grown in the pristine Marlborough Sound area of New Zealand, and the best quality mussels are harvested when fully grown. Mussels are stabilized before being freeze dried. Limited information is provided about how the oil is extracted, apart from it being a "patented supercritical fluid extraction process", as the company wants to keep it confidential. Processing is carried out in New Zealand and Germany.
Bio-mer Tripernol. Has an ownership share of the mussel farm to ensure the mussel quality. Mussels are opened by hand. However, the company declines to divulge its processing method due to the use of sensitive technology.
Moxxor. Owns and operates its own mussel farms to ensure the quality of mussels. Manufacturing uses cold processing techniques and no chemical solvents. The mussels are stabilized, but the company website doesn't state how.
Blue Dragon. Mussels are harvested at their peak, and water is monitored to ensure it's free from contaminants. The company doesn't specify how the mussels are removed from their shells, or whether they're stabilized. Freeze drying is used to convert them to powder form.
Blooms. The company website doesn't provide any information about mussel sourcing, processing, or stabilization. Thus, although the powder is inexpensive, it's likely to lack potency.
Xtend-Life. Mussels are sourced from one grower in pristine Marlborough Sound and only harvested when they contain all nutrients. The company uses a unique to the market extraction process that doesn't heat or freeze the mussels, and processing to powder form is completed in only 30 minutes so there's no need for stabilizers. It's outlined in detail in their Green Lipped Mussel Buyer's Guide.
The Verdict: Best and Worst Brands
As can be seen, there's not a lot of reliable information available about processing methods, which is a concern. In fact, the only company that has a truly transparent processing method is Xtend-Life.
In terms of mussel oil, the brand that seems to offer the best value for money is Bio-mer Tripernol.
Moxxor, the most expensive brand, actually contains the least amount of mussel oil.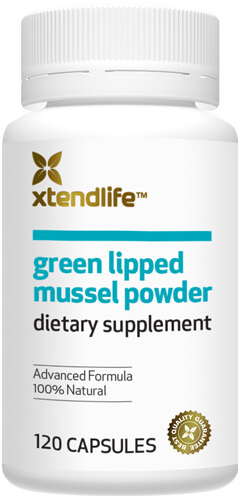 If you want a potent powder that contains all the health benefits of raw green lipped mussels, we of course highly recommend Xtend-Life Green Lipped Mussel Powder. (It's more cost effective than Bio-mer Tripernol powder and a better quality extract than cheaper brands such as Blooms).
However, what really sets Xtend-Life Green Lipped Mussel Powder apart from other products is that it's supported by a 100% satisfaction money back guarantee so you can try it RISK FREE! That's how confident the manufacturer is about it.
Read more about the factors to consider in choosing a green lipped mussel supplement.

We Use and Recommend!
Xtend-Life because they are a family owned company specializing in development of innovative products to meet specific needs.
Xtend-Life combines top quality raw ingredients that are laboratory-tested, with superior manufacturing practices. Satisfaction is guaranteed, or your money back!