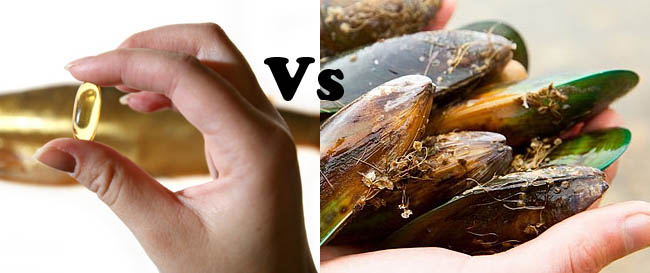 Doctors have encouraged the use of fish oil as a supplement to support heart and joint health for a long time now. Its benefits are widely recognized. But is it better than green lipped mussel extract for treating pain and inflammation?

The effectiveness of mussel oil vs fish oil is often discussed. Let's take a look and see how they compare.
What Exactly is the Difference Between the Two?
Fish oil, derived from the tissues of oily fish such as salmon and tuna, contains two kinds of omega-3 fatty acids — Eicosapentaenoic Acid (EPA), and Docosahexaenoic Acid (DHA).
Green lipped mussels, a shellfish native to New Zealand, are also rich in omega-3 fatty acids. In particular, they're a potent source of a rare omega-3 fatty acid called Eicosatetraenoic Acid (ETA).
The reality is that all types of omega-3 fatty acids have the ability to lower inflammation by tying up the enzymes (lipoxygenase and cyclooxygenase) that make inflammatory compounds (leukotrienes and prostaglandins) in the body. However, as explained here, ETA can go one step further than this.
The ETA in green lipped mussels actually works at the gene level to reduce the production of cyclooxygenase.
ETA also reduces the formation of Arachidonic Acid, a type of omega-6 fatty acid that the body uses to produce the inflammatory compounds. Instead of making Arachidonic Acid, an enzyme called delta-5-desaturase (d5d) actually uses the ETA to make EPA (yes the same omega-3 fatty acid found in fish oil)!
Is Mussel Oil More Effective at Reducing Inflammation?
This scientific study compared the anti-inflammatory effects of the ETA in a mussel oil (Lyprinol) with salmon, cod liver, flaxseed, and two mixed fish oils.
In the study, animals were given an inflammatory inducing substance. The effectiveness of the various omega-3 supplements was tested by looking at the amount of swelling as well through the use of a standardized arthritis score. This examined things like how sensitive the animals' feet were, how much they groomed their inflamed paws, and how mobile the animals were.
The study showed that the ETA rich green lipped mussel oil was clearly superior to other omega-3 sources at lessening inflammation.
In particular, the mussel oil lowered the animals' arthritis scores by a range of 42-75%, compared to only a reduction of only 31% from conventional omega-3 sources. It also reduced rear paw swelling by 96-98% compared to a reduction of only 7-38% from common omega-3s.
What was also remarkable was that the dose of mussel oil was significantly less than that used for the standard omega-3 supplements.
In addition to containing ETA, the mussels are also a substantial source of glycosaminoglycans. The role of glycosaminoglycans is explained here. In short, these amino sugars are raw materials or building blocks that are used by cells to ensure healthy joints.
Another thing to keep in mind when taking fish oil is that the quality of supplements varies enormously. If you aren't careful about selecting a reputable product, you could actually be doing harm to your health. This is because some oils are high in mercury or other contaminants, aren't completely natural, or aren't fresh. The level of DHA that you're getting also varies.
Should You Take Mussel Oil Instead of Fish Oil?
Given the findings, you may be thinking that taking mussel oil is solely the way to go. Not necessarily so though!
The most nutritionally important omega-3 fatty acids, found in fish oil, are EPA and DHA. Thus, this oil is renowned for its extensive health benefits and shouldn't be overlooked.
Many people with severe symptoms combine both fish oil and mussel extract to get the best of both supplements. They report faster and better results.
Of course, it's just as important to choose your mussel supplement carefully too, to ensure that it contains a consistently high dose of ETA. Cheap usually means inferior ingredients (poor quality mussels) or processing methods. See how major green lipped mussel brands compare.

The brand that we recommend, Xtend-Life Green Lipped Mussel Powder, uses a unique to the market manufacturing process that converts specially harvested raw mussels to mussel extract within 30 minutes, without heating or freezing, so that all the nutrients of the raw mussels are retained. It also means there's no need for chemical stabilizers to be added.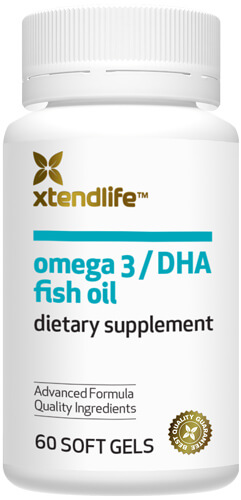 Xtend-Life also offer a range of top quality fish oil supplements:
A clinical study found Xtend-Life Fish Oil to have 2.5 times the anti-inflammatory properties of 'normal' fish oil and even double the anti-inflammatory properties of highly refined and concentrated fish oil!
This FREE Green Lipped Mussel Buyer's Guide, and Fish Oil Buyer's Guide are invaluable sources of information about the supplements.
All Xtend-Life products are supported by a 100% money back guarantee, and free shipping on orders over $60, so you can buy confidently WITHOUT ANY RISK.

We Use and Recommend!
Xtend-Life because they are a family owned company specializing in development of innovative products to meet specific needs.
Xtend-Life combines top quality raw ingredients that are laboratory-tested, with superior manufacturing practices. Satisfaction is guaranteed, or your money back!