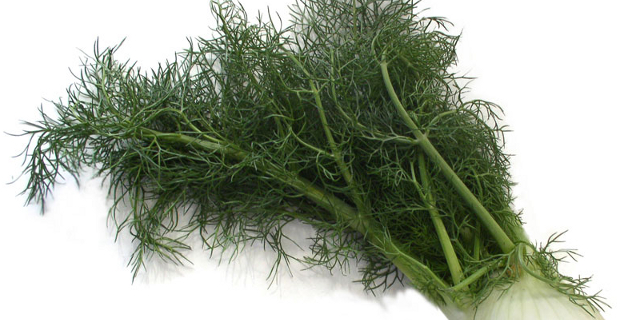 Suffering from gas can not only be uncomfortable but embarrassing as well. Fortunately, there are a number of herbs for gas that can effectively remedy the problem. Let's take a look at three of the most important ones.
1. Fennel
Fennel has been used to improve digestive health since ancient Roman and Egyptian times. In India, fennel seeds are routinely chewed after eating to help digestion, and they also act as a herbal mouth freshener.
Fennel seeds often provide quick and effective relief from many digestive disorders including gas, cramps, acid indigestion.
In 2000, this scientific study concluded that fennel significantly increases the secretion of bile acids, which stimulates digestion.
This scientific study, conducted in 2003, found that fennel was able to eliminate colic in 65% of babies.
More recently, studies have investigated fennel for its antispasmodic action on the smooth muscle of the stomach and intestine. These muscle relaxing properties can help relieve trapped gas.
2. Ginger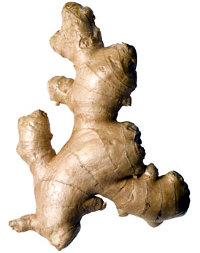 Rather unattractive looking but extremely beneficial for digestion, ginger is widely used in Traditional Chinese Medicine and Ayurvedic medicine in India.

As stated in this study, modern day scientists have also given their approval for the use of ginger to treat gastrointestinal problems and stimulate digestion.
Numerous studies from China and Japan have shown that ginger regulates peristalsis, which is the movement of muscles that pushes food along the intestine. This probably explains why ginger is so effective at easing gas pains;
Ginger also aids digestion by increasing the production of digestive fluids and saliva.
Ginger has been examined in animal studies as well, as a support for the entire gastric system and as a digestive tonic. And example is this study, which found that ginger had gastroprotective qualities in rats. Hence ginger can help treat stomach ulcers and upsets.
2. Burdock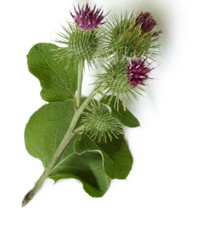 Lesser known than fennel and ginger, and regarded as a noxious week, burdock is still very useful in treating digestive problems. Herbalists consider burdock root to be full of nutrients, as the plant's roots draw nourishment from deep within the soil.
Burdock can help strengthen the stomach, digestion and appetite. It helps to relieve gas. It can also soothe the gut and help absorb and eliminate toxins, chemicals and metal contaminants from the large intestine.
Native Remedies Gasolve Relief
Now, you may be wondering where to get all these herbs from. Some, such as ginger, are readily available. However, the effectiveness of these herbs for gas can be greatly increased if they're taken in combination with each other.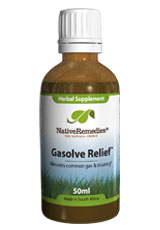 Native Remedies offers a 100% herbal formula with all these ingredients in a therapeutic dosage. It's called Gasolve Relief. A homeopathic remedy known as Carbo veg (30C) has also been added to the blend. It's commonly used to support digestion and discourage gas. If you're one of those people who prefer loose clothing around your abdomen, and like to lay down after eating or drinking, you'll find it most beneficial.
Gasolve Relief is specifically made to:
Maintain healthy comfortable digestion.
Eliminate gas in the digestive system.
Encourage overall digestive health and support all body systems involved in digestion
It comes in liquid form, which is added to water, juice or milk. Most people notice the results within a day or two.
In case you have any doubts, Native Remedies are so sure that Gasolve Relieve will help you that they offer a 1 Year Money Back Guarantee, so you can try it RISK FREE!
Get more info on Gasolve Relief – Flatulence Natural Remedy
Here's what customers have to say about Gasolve Relief.
"Since using your Gasolve Relief I can honestly say I have far less wind.No more …having to excuse myself whenever I'm in company due to excess wind. This product is really great- thank you! "—Leanne.
"I must admit that it was my wife who ordered this remedy for me. I think she was at her wits end, but I'm really grateful that she did though. I've noticed drastic improvement in that gassy feeling I used to get after eating and I pass much less wind in general. I feel great and my wife seems relieved!" —Dale T.
"…I decided to give Gasolve Relief a try and have been pleasantly surprised at the results… I produce less gas these days …(and) am very pleased with the effects of this natural remedy – thanks. " —Tamara.

We Use and Recommend!
Xtend-Life because they are a family owned company specializing in development of innovative products to meet specific needs.
Xtend-Life combines top quality raw ingredients that are laboratory-tested, with superior manufacturing practices. Satisfaction is guaranteed, or your money back!