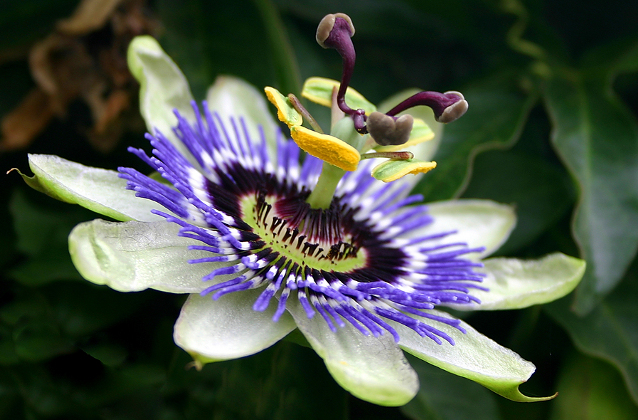 If you've been looking for natural supplements for anxiety, it's likely that you may have come across passionflower extract. It's been used for centuries as a folk remedy for treating nervous system disorders, and is growing in popularity as an effective cure.
A number of scientific studies, conducted over the last decade, have confirmed the benefits of passionflower for anxiety. But how does passionflower extract work?
One of the difficulties with herbal supplements is actually identifying their active ingredients. Although they can be easily proven to work, how they work is more challenging to establish because plant materials contain thousands of phytochemicals. This makes it hard to pinpoint the specific biochemicals that have the anti-anxiety properties.
Several scientific studies have taken a look at the biochemical makeup of passionflower. Here's what they found.
The Effect of Passionflower Extract on GABA
In 2010, this study conducted by the Department of Neurology at the Oregon Health and Science University, in Portland, confirmed that Passionflower extract increases the levels of gamma-aminobutyric acid (GABA) in the brain.
But what's GABA? Chemically, it's an amino acid. However, it's better known as a neurotransmitter, which is a chemical that carries a message from nerve cells to other cells. There are many in the human body. GABA is the main inhibitory neurotransmitter in the central nervous system. It reduces the amount of activity of nerve cells in the brain, causing relaxation.
Increasing the amount of GABA is the same way that benzodiazepines (drugs that are known as tranquilizers) work. This explains why Passionflower has been proven to be as effective as popular drug Oxazepam in controlling anxiety and insomnia.
Yet, despite knowing what Passionflower extract does, its active ingredients are still eluding scientists.
This study found Passionflower to have the highest GABA content of the 21 plants examined. However, the issue is that GABA isn't transported very well from the bloodstream into the brain. Most of the GABA found in the brain is actually made there. As a result, the pharmacological significance of the high GABA content in Passionflower extract is still unclear.
Based on a number of previous studies, one or more flavonoids are considered to be the most likely active ingredients in Passionflower extract. These plant compounds, of which there is a large collection, give plants their colorful pigments. They're also considered to have a wide ranging health benefits, particularly their powerful antioxidant actions.
The Effect of Passionflower Extract on Monoamine Oxidase
Scientists have also discovered that Passionflower extract contains chemicals known as harmala alkaloids. These act as monoamine oxidase inhibitors, which stop the breakdown of monoamine neurotransmitters.
Monoamine neurotransmitters are a type of neurotransmitter that includes dopamine, norepinephrine, and serotonin. All have a huge impact on our mood.
Medically, chemical monoamine oxidase inhibitors are usually a last resort for treating depression and other nervous system disorders because of their side effects. However, naturally occurring monoamine oxidase inhibitors are much milder and better accepted by the body.
Passionflower Extract Supplements for Anxiety that Work
There are two passionflower extract products that we recommend for anxiety.

The first one, for fast relief of anxiety symptoms is Native Remedies PureCalm. It comes in a tincture, so it's quickly absorbed into the bloodstream to eliminate symptoms in just 5-10 minutes. It also contains Lemon Balm and Lavender extracts, which are renowned for their soothing and restorative properties.
The second one, for ongoing relief of anxiety symptoms is Native Remedies MindSoothe. It's taken daily in capsule form. It also contains St Johns Wort, which is a renowned mood stabilizer.
Both products have been created with the input of a Clinical Psychologist. Depending on your needs, they can be taken together or alone.
Here's what one satisfied customer has to say:
"I was very skeptical if this product would work – but after a couple hrs of researching it and reading almost every testimony and looking at other websites I – decided to try it and purchase PureCalm – wow what a great distress and anxiety liquid. I add to my cup of juice and tea-has no odor and no after taste – or bitter taste – I just add about 10 or 20 drops to my tea/juice and I almost immediately in 10 or 15 min later – feel the anxiety and stress subside and – and gone – this is magic in this bottle — PureCalm – I have bouts of anxiety – brought on by stress a lot but never wanted to get hooked on taking meds for it – rather control it through breathing or – another way of controlling it – PureCalm has gotten control back in my life – thank u very much."- Richard L., NY, USA

We Use and Recommend!
Xtend-Life because they are a family owned company specializing in development of innovative products to meet specific needs.
Xtend-Life combines top quality raw ingredients that are laboratory-tested, with superior manufacturing practices. Satisfaction is guaranteed, or your money back!