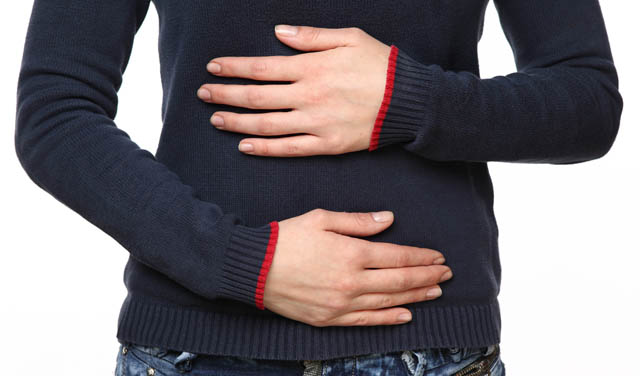 Green lipped mussel extract is known to have at least two forms of pharmacological activity — one of these is anti-inflammatory and the other is gastroprotective.
Both are beneficial in relation to disorders that are commonly treated with chemical NSAIDs (non-steroidal anti-inflammatory drugs), such as arthritis and asthma.
If you've ever taken NSAIDs, you'll know how harsh they can be.
To different degrees, all non-steroidal anti-inflammatory drugs (NSAIDs) cause damage to the gastric lining, ranging from simple bleeding to ulceration.
The reason for this is because NSAIDs inhibit not only the enzyme activity that produces the inflammatory prostaglandin compounds in the body, but also the enzyme activity that produces protective prostaglandins to line the stomach.
Unfortunately the drugs don't distinguish between the two different enzyme activities, and consequently block both. You can read more about this in how the green lipped mussel anti-inflammatory effect works.
By taking green lipped mussel extract, it's possible to greatly counteract the harmful side effects of non-steroidal anti-inflammatory drugs.
Have Green Lipped Mussel Gastroprotective Benefits Been Proven?
Yes, they have.
This scientific study found that New Zealand green lipped mussel extract substantially reduced the occurrence of gastric ulceration from several non-steroid anti-inflammatory drugs in rats and pigs (pigs being considered the closest non-primate to man).
The drugs, which were administered together with the mussel extract, included acetylsalicylic acid (asprin) and indometacin (commonly branded as Indocin). The gastroprotective properties of the mussel extract were found to come from particular lipid (fat) fractions of the extract. The fractions varied depending on the drug used. Positively, this suggested that the gastroprotective activity was unique and not due to the presence of any substance in the body.
What's more, the results showed that the anti-inflammatory properties of the mussel extract acted in synergy with that of some of the non-steroid anti-inflammatory drugs, improving the impact. Additionally, and unlike many gastroprotectants, the mussel extract didn't impair the therapeutic activity of low dosages of non-steroid anti-inflammatory drugs. In fact, it enhanced it.
Wider Application of Green Lipped Mussel Gastroprotective Benefits
Even if you're suffering from damage to the gastro-intestinal tract that's not a direct result of taking NSAIDs, green lipped mussel extract can still help you.
Findings have indicated that the protective effect on the lining of the gastro-intestinal tract is not dependent on the presence of a pharmaceutically active compound causing irritation. It naturally occurs anyway.
This means that anyone who's experiencing gastro-intestinal irritation (stomachache), bleeding, or ulceration can take green lipped mussel extract and benefit from it.
The extract can also be used as a general preventative measure.
Green Lipped Mussel and Cancer Patients
Although green lipped mussel extract can't treat cancer, it can help remedy the side effects of chemotherapy and radiation, and pain and inflammation associated with cancer.
How? One of the debilitating side effects of chemotherapy is often a condition called mucositis. This inflammation and ulceration of the lining of the mouth, throat or gastrointestinal tract is experienced by 40-60% of cancer patients.
However, in 2007, Associate Professor Gordon Howarth from the University of Adelaide, Australia revealed that experiments on rats specifically showed that the extract was able to mitigate the damage to the gastrointestinal tract caused by chemotherapy and radiation.
These findings are very encouraging for cancer sufferers.
What's the Optimal Dosage Required ?
As with the green lipped mussel dosage for treating inflammation, the optimal dosage for treating gastro-intestinal conditions varies greatly.
It really depends on the nature and severity of the disease to be treated. As a rule, the greater the dose is, the greater the anti-irritant or anti-ulcerogenic effect is.
For an adult of standard weight, the starting dosage could be anywhere between 500-5000 mg of green lipped mussel extract a day.
What's the Best Green Lipped Mussel Extract to Take?
It's important to carefully chose your brand of mussel extract, as not all brands are of the same quality. Being a derived from a natural whole food, the potency of the green lipped mussel extract is determined by the quality and freshness of the mussels used, and the way in which they're processed.
Unfortunately, some manufacturers use low grade mussels. The raw mussels are also highly prone to oxidization, as well as losing their nutrients if they're heated or frozen.
If you buy a cheaper brand, it's likely that it won't have the same affect as a more costlier but better quality brand. Have a look at how popular green lipped mussel brands compare to find out more about what to look for in a supplement.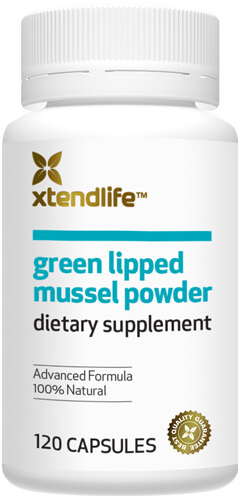 We highly recommend Xtend-Life Green Lipped Mussel Powder. It's made by a family owned business in New Zealand that puts substantial effort into research and development. As a result, they produce their mussel extract to the highest standard, using cutting-edge technology.
However, the really refreshing thing is that Xtend-Life are completely transparent in regards to how they go about it. This means that you know exactly what you're getting when you buy their product. It's a huge contrast to many companies, which are secretive about their processing methods and where they get their mussels from.
Why not have a read of Xtend-Life's very informative FREE 22 page Green Lipped Mussel Buyer's Guide to find out more? Xtend-Life stand by their product with a 100% satisfaction money back guarantee.

We Use and Recommend!
Xtend-Life because they are a family owned company specializing in development of innovative products to meet specific needs.
Xtend-Life combines top quality raw ingredients that are laboratory-tested, with superior manufacturing practices. Satisfaction is guaranteed, or your money back!