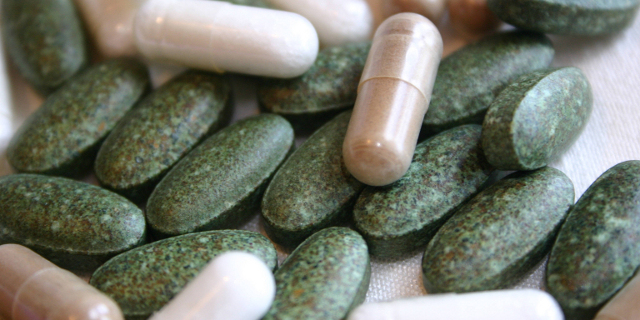 Digestive issues can be wide and varied, including everything from constipation to heartburn. There are many different natural digestive supplements to help digestion on the market, but which ones really work? And, which ones will solve your specific problems?
After examining what's available, we've selected what we believe to be the most effective products from two companies. What's important to note is that both these companies support their products with 100% money back guarantees. This means that you can try the products risk free.
So, let's take a look at the products to see how they can help you.
1. Kiwi Klenz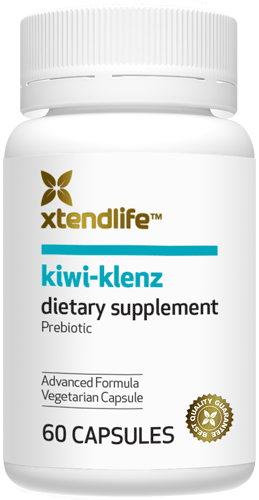 If you're looking for a natural digestive that can remedy a whole range of digestive issues and really improve your overall digestion, Kiwi Klenz is a remarkable new product that's highly recommended. It's made by Xtend-Life in New Zealand, from the extract of both the kiwi fruit pulp and skin (which is actually the most nutritious part).
If you're unfamiliar with the health benefits of kiwi fruit for digestion, you may be surprised that we're recommending a kiwi fruit supplement. However, not only are kiwi fruits delicious to eat, they're high in vitamins, antioxidants, fiber, and plant phenolics. They also have a prebiotic effect. As a result, kiwi fruits have been scientifically proven to alleviate constipation, bloating, aid digestion, and maintain optimum balance of bacteria in the intestine.
Find out what customers have to say about Kiwi Klenz in these customer comments.
2. Gastronic Dr.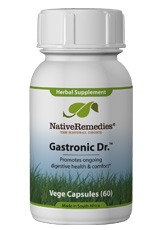 If you suffer from digestive conditions that are prone to flare ups, such as Irritable Bowel Syndrome, gastritis, acid reflux, ulcerative colitis, or diverticulitis, you'll find Gastronic Dr. to be very soothing on your digestive system.
Made by Native Remedies in the USA, it contains a therapeutic blend of herbs specifically designed to improve gut health and the condition of the digestive tract. These are:
German Chamomile — used by European naturopaths for centuries for its calming effect on many body systems, including reducing inflammation in the digestive system. This scientific study has confirmed the medicinal use of chamomile preparations.
Meadowsweet — helps improve the health of the stomach lining and digestive mucosa. It also encourages the production of stomach acid and digestive secretions. This studyfound it to be effective at treating stomach ulcers.
Slippery Elm– the bark is an excellent digestive herb that's rich in trace minerals, manganese, iodine, protein and soothing mucilage. It helps improve the health of the digestive tract.
Cancer Bush — used by indigenous people of Southern Africa for thousands of years to promote digestive health and as a supportive systemic tonic.
Get More Info on Gastronic Dr. for Acute and Chronic Digestive Disorders
3. DigestAssist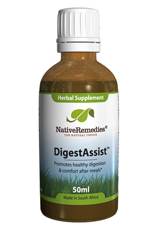 If you need a bit of extra digestive support after meals, DigestAssist does exactly that. It comes in fast acting liquid form, and the drops can be added to a small amount of water, juice or milk.
The blend is a herbal one. DigestAssist contains:
Ginger– numerous studies from China and Japan have shown that ginger helps the movement of muscles that push food along the intestine. Ginger also aids digestion by increasing the production of digestive fluids and saliva.
Fennel– increases the secretion of bile acids, which stimulates digestion. It also has an antispasmodic action on the smooth muscle of the stomach and intestine.
Peppermint– widely known and highly regarded as an aid for healthy digestion. It supports the digestive tract and the flow of natural digestive juices and bile, and helps to relax the muscles of the digestive tract.
Stomach Bush — a traditional medicinal herb used by indigenous people of South Africa to calm the stomach and as a general supportive tonic.
Many people with more serious digestive issue have great success taking Digest Assist along with Gastronic Dr.
Get More Info on DigestAssist for Acute and Chronic Digestive Problems
4. Gasolve Relief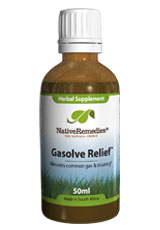 Gas is an unfortunate but common digestive issue. If you're looking for a natural digestive supplement to specifically address problematic gas after meals, try Gasolve Relief.
In addition to fennel and ginger, it contains burdock and a homeopathic remedy known as Carbo veg (30C).
Burdock supports detoxification in the body, and also helps lessen common wind and non-recurrent bloating. It supports healthy bowel movements as well. Carbo veg (30C) is commonly used to support digestion and discourage gas. It's particularly beneficial for those people who prefer loose clothing around their abdomen, and like to lay down after eating or drinking.
Get more Info on Gasolve Relief – Flatulence Natural Remedy
5. Triple Complex Digestion Tonic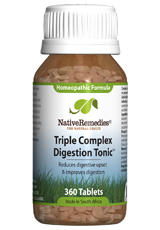 If you suffer from digestive issues such as acidity in the digestive tract, burning, pain, and discomfort during digestion, Triple Complex Digestion Tonic can help. It's also beneficial for digesting rich foods.
Unlike other supplements, it's a combination of three biochemic cellular–supporting tissue salts. In case you're wondering about tissue salts, there are 12 different ones in every human cell. These tissue salts or "cell salts" are vital mineral elements of the body. Any deficiency or imbalance may result in illness, with the symptoms varying according to the deficient tissue salt. By taking the relevant tissue salts and correcting the deficiency, health is restored.
The concept of tissue salts was discovered in Germany in the early nineteenth century, by Dr. W.H. Schuessler –- a noted physiological chemist, homeopathic physician, and physicist.
Tissue salts are small, pleasant tasting tablets that can be chewed or dissolved in the mouth. They're rapidly and easily absorbed by the body, for the speedy restoration of its natural balance.
For optimum results, take these tissue salts together with Gastronic Dr. and DigestAssist. They can also be taken along with Gasolve Relief, if gas is a concern.
Get More Information on Triple Complex Digestion Tonic Tissue Salts.

We Use and Recommend!
Xtend-Life because they are a family owned company specializing in development of innovative products to meet specific needs.
Xtend-Life combines top quality raw ingredients that are laboratory-tested, with superior manufacturing practices. Satisfaction is guaranteed, or your money back!