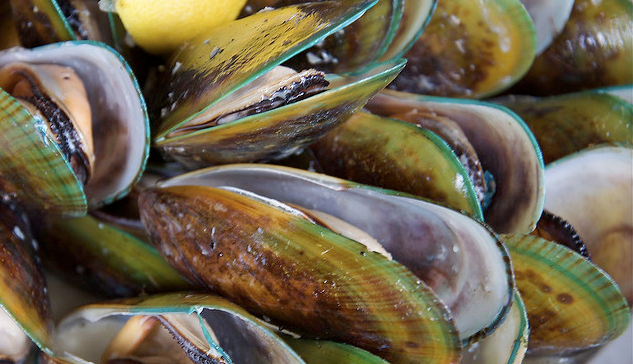 These days, natural remedies for arthritis are becoming sought after alternatives to conventional arthritis treatments, which involve addictive pain killers and harsh non steroidal anti-inflammatory drugs.
If you've ever suffered from the side effects of these drugs, you'll understand why. Stomach ulcers and gastrointestinal bleeding are not pleasant.
Fortunately, natural medicine offers some excellent solutions that have been scientifically proven to treat the symptoms of arthritis. You'll find that there are a lot of supplements on the market. But which ones really work? What ingredients should you look for, and what are quality products?
There are two issues that need to be addressed when treating arthritis — inflammation, and the condition of joint cartilage and fluid. We consider the ingredients in the following three supplements to be the most effective in addressing these issues.
Let's take a look at them and see why.
1. Green Lipped Mussel Extract
You may be surprised to learn that green lipped mussel extract is remarkably beneficial in alleviating the debilitating symptoms of arthritis.
The extract of this New Zealand shellfish is rich in a number of important nutrients that not only target both issues (inflammation and condition of joint cartilage) associated with arthritis, but also have gastroprotective capabilities. This will protect your stomach lining from the side effects of chemical drugs in case you don't want to stop taking them straight away.
The two most important nutrients that are found in high quantities in green lipped mussel extract are a rare omega-3 fatty acid called Eicosatetraenoic Acid (ETA) and glycosaminoglycans.
The ETA is what's largely responsible for the remarkable green lipped mussel anti inflammatory effect. Scientific studies have shown that it naturally inhibits the body's metabolic pathways that produce inflammatory compounds called prostaglandins and leukotrienes. This is what nonsteroidal anti inflammatory drugs also do. However, the difference is that chemical drugs also block the production of protective prostaglandins required by the stomach lining. Hence, the reason why many people experience ulcers and bleeding.
Glycosaminoglycans are made from an amino sugar called glucosamine. They're found in joint cartilage, joint fluid, connective tissue and skin. Providing the body with additional glycosaminoglycans gives it the "building blocks" that it needs to improve and repair joint cartilage and fluid.
Green lipped mussels are also high in antioxidants, which are known to fight free radicals. Researchers have found high concentrations of free radicals in the joint fluid extracted from inflamed joints.
There's a significant debate about the use of green lipped mussel oil vs fish oil to treat arthritis and inflammation. Findings indicate that mussel oil has a superior edge.
When choosing a green lipped mussel supplement, it's very important not to rush out and buy the cheapest one though. If you do, you may not get the results you were expecting. As this comparison of popular green lipped mussel brands shows, there's a lot of variation between products. Use of inferior quality mussels and manufacturing methods means that some supplements have very little nutritional value. Others use unhealthy chemical stabilizers.
We favor Xtend-Life Green Lipped Mussel Powder because it's made in New Zealand, where the mussels are grown, using a unique to the market manufacturing method that retains all the goodness of the raw mussels. The company is a family owned business, and they offer a 100% money back guarantee.
Want more information? You'll find it in this FREE comprehensive Green Lipped Mussel Buyer's Guide.
2. Not Just Joints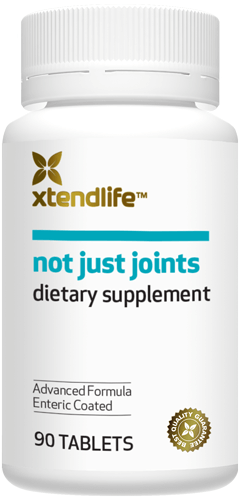 If you're suffering from severe arthritis, the addition of Xtend-Life Not Just Joints (formerly called Arthrit-Eze) will really produce noticeable results. We're extremely impressed with the ingredients of this formula, which could possibly be the most advanced natural arthritis supplement on the market.
It has been carefully formulated by Xtend-Life's research and development department, and contains around 35 specific nutrients that all work in synergy and actively target the root causes of all types of arthritis. Many of the ingredients are rarely found in other natural arthritis supplements due to their high cost and sensitivity to stomach acids. Customers who take the product also report added benefits of better skin and overall wellbeing!
Some of the most potent and rarer ingredients are:
Glucosamine Sulfate, Chondroitin Sulfate — both play a role in the preservation and rebuilding of joint tissues, and stimulation of cartilage cells.
SAMe –aids in the production of genetic material such as DNA and cartilage. The essential amino acid methionine, administered as S-adenosyl-methionine, was shown to be superior to ibuprofen in the treatment osteoarthritis in a double-blind clinical trial.
Cetyl Myristoleate — this non-toxic substance found in fruit and nuts works as an anti-inflammatory by regulating prostaglandins and leukotrienes.
Phellodendron Bark — another powerful anti-inflammatory agent.
Detailed information about each ingredient and how it works is available in the Not Just Joints Technical Papers.
The same as all Xtend-Life products, satisfaction is 100% guaranteed or your money back.
Here's a selection of what customers have to say:
"Hi, I just wanted to let you know how much Not Just Joints has helped me. I have recently been diagnosed with osteo-arthritis in my neck and hands I am only 36 so was devastated to hear that the pain which was excruciating was only ever going to get worse but since starting taking Not Just Joints I don't need to take any pain killers, which is good as the pain killers I have been prescribed are highly addictive".

Thanks very much. — Steven H, Australia
"I have been using your products for one and a half years now and I tell everyone about them. I have rheumatoid arthritis and your products have helped me so much I can't tell you. I feel better than I have since I was diagnosed seven years ago and I swear that I have fewer flare ups because of the Not Just Joints and Total Balance Women's Premium formulas….Keep up the good work and thank you for making my life much better." — Laura, USA
3. JointEase Plus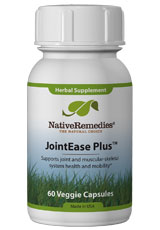 Joint Ease Plus is a popular herbal and nutritional arthritis remedy sold by Native Remedies. It's been designed to specifically improve joint and cartilage health, and aid mobility.
What does it contain?
Devil's Claw (Harpagophytum procumbens) — this herb from Africa has been traditionally used to treat most types of arthritis. It contains a group of chemicals called iridoids, which have an anti inflammatory effect. This scientific study has proven its effectiveness for treating inflammation.
Glucosamine — is manufactured by the body and used to build joint cartilage. However, the body often doesn't produce enough to sustain joint health. Glucosamine is approved for the support of joint health in more than 70 countries around the world and has been the subject of many clinical studies, such as this study on osteoarthritis progression.
Indian Frankincense (Boswellia serrata) — is a traditional Indian Ayurvedic remedy for joint health. This scientific study confirmed its effectiveness for osteoarthritis of the knee.
Native Remedies products come with a reassuring 1 Year Money Back Guarantee so you can try them RISK FREE!
RETURN THE PRODUCT WITHIN ONE YEAR FOR A FULL REFUND!
Here's what customers have to say:
"I am 69 and I took JointEase Plus quite skeptically after it was recommended by a friend, because I have not had much experience with herbal products. After 3 – 4 weeks I could really feel the difference. Now about three months later I am taking a half dose and am (feeling great) … My compliments on a very effective product …I am walking proof that it works!" —Frank C.
"This is my third order of three bottles each time. After I had been taking [JointEase Plus] for about ten days, I noticed my left knee and both hips were no longer hurting. I was due to go in for hip surgery, but no more." — Shirely G., AZ, USA

We Use and Recommend!
Xtend-Life because they are a family owned company specializing in development of innovative products to meet specific needs.
Xtend-Life combines top quality raw ingredients that are laboratory-tested, with superior manufacturing practices. Satisfaction is guaranteed, or your money back!