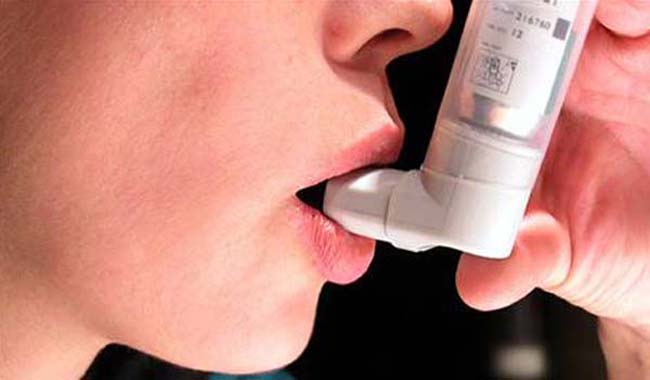 The link between asthma and inflammation is well established. A chronic inflammatory disease, asthma is triggered when the airways, the tubes that carry air into and out of a person's lungs, become inflamed. This makes them very swollen and sensitive, and as a result breathing becomes difficult. Naturally, it's extremely distressing for anyone who suffers from it.
What causes an asthma attack to happen? Some people's airways react strongly to certain substances that they inhale (such as pollen). When this occurs, the muscles around them tighten, thereby decreasing the flow of oxygen to the lungs.
The most common form of asthma treatment is an inhaler (puffer) that's used to deliver a metered dose of medication into the airways and lungs. The medicine is usually a steroid or chemical substance that quickly dilates the airways. It provides quick and temporary relief from asthma symptoms or flare-ups. Severe asthma is much harder to treat and often requires constant medication.
There are, however, alternative options for treatment.
Growing research has found that Omega 3 fatty acids may be effective at controlling asthma as they interact with the body's metabolic pathways to decrease the number of inflammatory compounds present.
How is this possible?
Omega 3 fatty acids naturally inhibit the body's production on inflammatory compounds leukotrienes and prostaglandins. Leukotrienes are released as an immune system response to invasion (such as by allergens) or damage. One of their roles, particularly related to asthma, is to trigger tightening of airway muscles, and the production of excess mucus and fluid. They're responsible for causing symptoms such as wheezing, chest tightness, shortness of breath, and cough.
When it comes to naturally reducing inflammation, two of the best sources of Omega 3 fatty acids are fish oil and the lesser known green lipped mussel extract.
Fish Oil and Asthma Treatment
There have been a number of studies conducted over the years that have investigated the use of fish oil as a natural asthma remedy. So far, the results have been mixed. This study reported a positive effect on forced expiratory volume after a nine month of treatment with fish oil. This review confirmed the effectiveness of fish oil in reducing airway hyperresponsiveness after exercise.
However, this review of nine randomised controlled trials conducted between 1986 and 2001, found that only one showed improved peak flow and reduced asthma medication use. It was performed on children, and combined dietary manipulation with fish oil supplementation.
Green Lipped Mussel Extract and Asthma Treatment
More recently, the use of green lipped mussel extract to alleviate asthma is being trialed. Results so far are promising.
This study was conducted at Pavlov Medical University in Russia on 40 patients (14 males and 26 females, aged from 18-62) with mild atopic asthma (asthma triggered by exposure to an allergen). The average duration of their asthma was 5.8 years.
Out of the 40 patients, 30 were given two capsules of Lyprinol (a popular brand of green lipped mussel oil) twice daily for eight weeks. The remaining 10 were given a placebo. Patients recorded daytime wheeze, nocturnal awakenings from asthma, and daily use of inhaled rescue medication. Positive results were apparent by day 26. These were:
significant reduction in daytime wheeze.
higher morning Peak Expiratory Flow (measures how fast the air comes out of the lungs. It's higher when asthma is under control).
reduction (65%) in the amount of exhaled hydrogen peroxide (considered to be a non-direct marker of oxidative stress and airway inflammation in asthmatic patients).
Green lipped mussel extract is thought to be more effective than fish oil at reducing inflammation. This is because it contains Eicosatetraenoic Acid (ETA) — a potent and rare Omega 3 fatty acid that works at the gene level to reduce the production of cyclooxygenase (the enzyme that makes inflammatory prostaglandins) and Arachidonic Acid (a type of Omega 6 fatty acid used to make prostaglandins and leukotrienes).
If you're interested in learning more about how green lipped mussel extract can help asthma, have a watch of this documentary. In it, Australian Commonwealth gold medalist Samantha Riley talks about her experience of using green lipped mussel oil Lyprinol to relieve her asthma.
The Best Green Lipped Mussel Extract to Take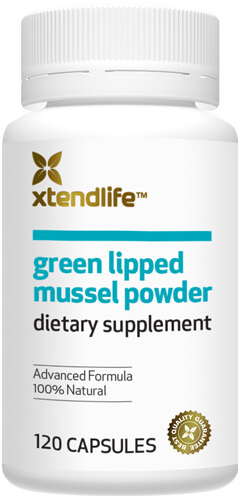 Of course, the mussel extract that you take doesn't have to be Lyprinol. We believe the product we recommend to be superior — not only is it as potent, it's more cost effective and has been manufactured in a unique to the market way that protects it purity and strength. See why in this article about what to consider when choosing a green lipped mussel supplement.
You can also have a read of this FREE 22 page Buyer's Guide and you'll see why we recommend Xtend-Life Green Lipped Mussel Powder so highly. You can try it risk free as there's a 100% satisfaction guarantee.
IF YOU DON'T GET RESULTS, YOU GET YOUR MONEY BACK!

We Use and Recommend!
Xtend-Life because they are a family owned company specializing in development of innovative products to meet specific needs.
Xtend-Life combines top quality raw ingredients that are laboratory-tested, with superior manufacturing practices. Satisfaction is guaranteed, or your money back!